By LALA ORDENES-CASCOLAN
VERA FILES
CHIEF Justice Renato Corona, impeached for failure to disclose to the public his statement of assets, liabilities and net worth (SALN), among others, has three condominium units and three other real properties in Marikina, Taguig and Quezon City registered to him, his wife Ma. Cristina, and to both of them as co-owners.
Of these, the chief magistrate failed to declare a 631.6-sq. m. lot in Quezon City he bought in 1995; a Marikina property—seven parcels of land covered by seven TCTs—was declared in his 1992 SALN and was no longer mentioned since; and a 113.02-sq. m. condominium in Bonifacio Ridge in Taguig, acquired in 2004, was not declared until 2010. A 62.7-sq. m. condo, acquired by installment in 1997, was declared only in 2003.
The titles to the properties were submitted on Thursday by the registers of deeds of the three cities to the Senate in compliance with the subpoena issued by the chamber, which is sitting as impeachment court and trying Corona on allegations of culpable violation of the Constitution, betrayal of public trust, and graft and corruption.
Three other properties owned by the chief justice's daughters were also presented in court, two in the name of "Constantino Castillo III, married to Ma. Carla C. Castillo," and one in the name of Charina Corona.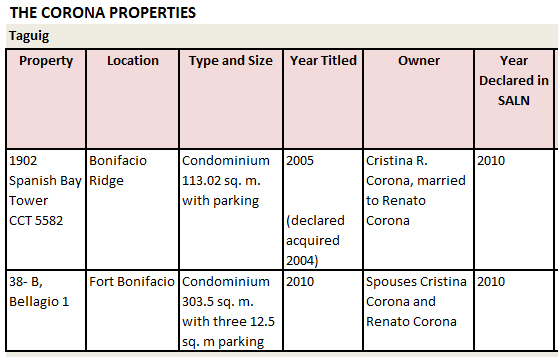 In declaring the value of his properties in his SALN, Corona had consistently reported only their assessed and fair market values, and not the amount he paid for the properties, or the actual acquisition cost. But government guidelines allow that a property acquired at no cost, through donation or inheritance for example, be declared at the fair market value.
Acquisition cost is the amount paid in obtaining the property. Assessed value is the value stated in the records of the local assessor in the local government unit where the property is located. Fair market value is the purchase price a real buyer and real seller can agree on.
In at least three separate instances, there were huge gaps between the fair market value as declared in the chief justice's SALN as against the acquisition cost reflected in the deed of sale.  One is the La Vista property which his wife bought for P11 million, but was declared in his SALN as having a fair market value of P3 million and which was later sold to their eldest daughter for P18 million.  Another is the Bonifacio Ridge condo which was bought for P9,159,940 but declared as having a fair market value of P2,369,980.
The properties registered to Corona and his wife, Ma. Cristina, are the following [...]
Read the full story >> Gaps between Corona's SALN and land records